Voice lessons at Melody Music Studios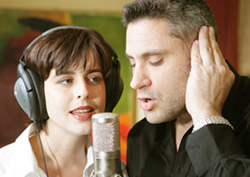 At Melody Music Studios, Voice lessons are fun yet challenging. Our Voice lessons are tailored for the individual for his/her pace and musical styles, whether the student is interested in traditional or by ear Voice lessons.  Traditional lessons include technique, exercises, music reading skills and studying specific songs.  To learn by ear includes music theory, ear exercises and improvisation.
For Voice instruction we create a positive, you can do it environment and offer styles and songs that are fun and easy to learn while setting the foundation for future lessons. As a student develops, we begin to challenge them with more difficult songs, styles, scales and exercises.

MMS offers annual recitals for students that are wanting to share their musical journey with family, friends and fellow students.  This is a great time to encourage each other and have a great time.  Refreshments are served after each performance and a time to get to know each other!   Click the link above for all the details in your city!

At Melody Music Studios, your Voice lessons are not only fun and challenging, but convenient as well with our in home service, or you can choose an instructor's home studio in a convenient location near you.

Since Melody Music Studios screens each applicant on several points including Voice training, ability, personality, reliability and teaching style, you can be assured of getting a professional, qualified Voice instructor.  We hire only those with the best scores and highest level of training and teaching skills, as well as fun and upbeat personalities.  We also check references and do a full background check on each instructor.

Since Melody Music Studios offers a week grace period after the first lesson to decide if the student and instructor are a good match, we gurantee that you'll be happy or the student can ask for another instructor or cancel during this week grace period.  If you're not happy with the lesson, that lesson is free!    We personally guarantee your satisfaction and the highest degree of personal service.